Kakawa Sports Chief Operating Officer Augustine Ogee gave details of the three-day scouting competition held at the Institute's training ground in Lagos in conjunction with the Vi-Foot Sporting Academy of Canada.
Also read: Good news for talented young footballers residing in Lagos, says Augustine Ogee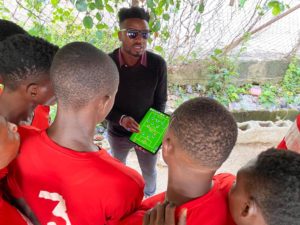 16 players were initially chosen from the event, which included 10 Lagos-based football academies. Ogee shared an update on the project in an interview with Sports247. Kakawa Sports staff have informed that the selected players have been reduced to four after weeks of camping as they prepare to try out with clubs in Germany and France.
He said: "We have concluded the second round of events which have helped us discover new talent who will undergo trials in Germany and France as part of the partnership we have with the Canadian-based Vi-Foot Sporting Academy. .
"The 16 selected players were taken to a camp in Ijebu Ode. They played against different academies and professional clubs. They faced Ijebu United in their last game from which we have the final list of four players who have been selected to go on trials with clubs in Germany and France.
As previously reported, Kakawa Sports are also taking four other young players on tour to the Netherlands and Spain from April. This is in collaboration with Ammonite Football Agency in the Netherlands.