Scouting movement strengthened to edify youth on National Scout Day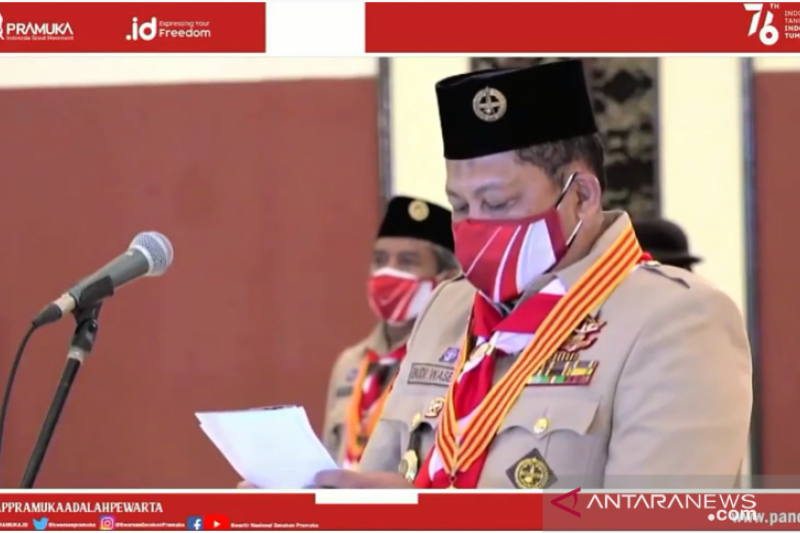 In keeping with the Scouts slogan "Endless Service", we will remain committed to serving in our respective environments by working with sincerity and selflessness.
Jakarta (ANTARA) – The National Scout Movement has strengthened its resolve to educate young people to become skilled and caring people on National Scout Day here on Saturday.
"In line with the Scouts slogan 'Endless Service', we will remain committed to serving in our respective environments by working sincerely and selflessly," said National Scout Movement Police Commissioner General Chairman (Ret.) Budi Waseso , marking the 60th anniversary of National Scout Day here.
Waseso noted that the ups and downs of the Scout Movement's journey have not diminished its determination to strive to educate young people to be useful human beings for themselves, their families, their communities and the nation, so that they can contribute to the manifestation of a better world. .
The President noted that the theme for Scouting Day 2021 was "Scouts unceasingly dedicated to adapting new habits with discipline and national awareness" with the slogan "Scouts unceasingly serve".
During the commemoration, Waseso pointed out that the Scout Movement has rewarded its members for their achievements and dedication, including supporting efforts to fight COVID-19.
He noted that the COVID-19 pandemic that struck in March 2020 had also hampered or delayed Scouting education activities.
Under these conditions, Waseso noted that the frontliners are trying to organize activities that can be followed by members from home via online or face-to-face activities, with a limited number of participants by applying health protocols.
Nevertheless, he noted that online activities also face obstacles, such as limited support devices and internet access.
"However, again, as Scouts with resilience, we strive to overcome the problems," he said.
Furthermore, President Joko Widodo (Jokowi) advised Indonesian scouts to become pioneers in the discipline by complying with health protocols to stem the spread of COVID-19.
Jokowi said at the presidential palace in Bogor on Saturday that scouts should be role models for the public in terms of exercising discipline by wearing masks, maintaining a safe distance, washing hands and avoiding crowds.
Disciplined adherence to health protocols is one of the keys to overcoming the COVID-19 crisis, he stressed.
"Indonesian scouts must be on the front line to protect us, our dear friends and our family. If there are any friends who are not following the health protocols, please remind them and provide them with understanding," stressed Jokowi.
Related News: President Calls on National Scout Movement to Promote Discipline and Benevolence
Related News: 2,000 Scout members joined upcycled costume carnival